The MIGW 2021 conference will take place at the University of Applied Sciences Würzburg-Schweinfurt in Schweinfurt.
The University of Applied Sciences Würzburg-Schweinfurt, or FHWS for short, is one of the largest universities of applied sciences in Bavaria with around 9,300 students. The FHWS was founded in 1971 at two locations with departments in Würzburg and Schweinfurt. With the establishment of the FHWS i-Campus, German and international students have the opportunity to complete their studies also in English. Further the university has a worldwide network of around 170 partner universities where students can study abroad.
Bildnachweis: Stadt Schweinfurt
Schweinfurt has been world-famous as an industrial city and the center of the European rolling bearing industry for more than 100 years. The name of this city is closely linked to inventions that move the world: ball bearings and the modern bicycle with free-wheeling hubs have their origins here. Even today, globally active companies from the rolling bearing and auto parts accessories production, such as the Schaeffler Group with its FAG brand, Bosch Rexroth AG, SKF GmbH and ZF Friedrichshafen AG with the Sachs brand, ensure that with their innovative Products, applications and systems all run smoothly worldwide. Further SRAM operates the world's largest development location for the bicycle industry. Other branches of industry, such as medical technology, measurement and control technology, energy technology, linear motion technology, plastics processing and processing are successfully represented by medium-sized companies.
Bildnachweis: Stadt Schweinfurt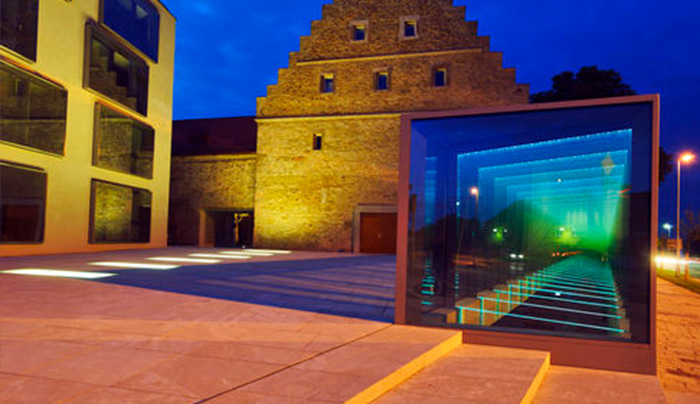 Bildnachweis: Stadt Schweinfurt
Bildnachweis: Stadt Schweinfurt
Bildnachweis: Stadt Schweinfurt
Address:
Hochschule für angewandte Wissenschaften Würzburg-Schweinfurt, Ignaz-Schön-Straße 11, 97421 Schweinfurt